San Diego Dentistry Practice Offers Discreet Way For Adults To Straighten Teeth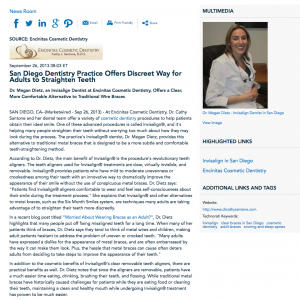 Dr. Megan Dietz, an Invisalign® dentist at Encinitas Cosmetic Dentistry, offers a clear, more comfortable alternative to traditional wire braces.
San Diego, CA – At Encinitas Cosmetic Dentistry, Dr. Cathy Santone and her dental team offer a variety of cosmetic dentistry procedures to help patients obtain their ideal smile. One of these advanced procedures is called Invisalign®, and it's helping many people straighten their teeth without worrying too much about how they may look during the process. The practice's Invisalign® dentist, Dr. Megan Dietz, provides this alternative to traditional metal braces that is designed to be a more subtle and comfortable teeth-straightening method.
According to Dr. Dietz, the main benefit of Invisalign® is the procedure's revolutionary teeth aligners. The teeth aligners used for Invisalign® treatments are clear, virtually invisible, and removable. Invisalign® provides patients who have mild to moderate unevenness or crookedness among their teeth with an innovative way to dramatically improve the appearance of their smile without the use of conspicuous metal braces. Dr. Dietz says: "Patients find Invisalign® aligners comfortable to wear and feel less self-consciousness about their smile during the treatment process." She explains that Invisalign® and other alternatives to metal braces, such as the Six Month Smiles system, are techniques many adults are taking advantage of to straighten their teeth more discreetly.
In a recent blog post titled "Worried About Wearing Braces as an Adult?", Dr. Dietz highlights that many people put off fixing misaligned teeth for a long time. When many of her patients think of braces, Dr. Dietz says they tend to think of metal wires and children, making adult patients hesitant to address the problem of uneven or crooked teeth. "Many adults have expressed a dislike for the appearance of metal braces, and are often embarrassed by the way it can make them look. Plus, the hassle that metal braces can cause often deters adults from deciding to take steps to improve the appearance of their teeth."
In addition to the cosmetic benefits of Invisalign®'s clear removable teeth aligners, there are practical benefits as well. Dr. Dietz notes that since the aligners are removable, patients have a much easier time eating, drinking, brushing their teeth, and flossing. While traditional metal braces have historically caused challenges for patients while they are eating food or cleaning their teeth, maintaining a clean and healthy mouth while undergoing Invisalign® treatment has proven to be much easier.
The Invisalign® treatment uses a series of aligners that are customized to fit the teeth of each individual patient. This series of aligners is made using intricate impressions taken from the patient's teeth. The patient takes home a set of aligners in order to reduce the number of necessary office visits. As the patient's teeth begin to improve, they receive new sets of aligners in the series from the dentist. The aligners are worn to further refine and improve the patient's smile, usually progressing in two-week intervals. Unlike traditional braces, there are no wires to tighten, and Invisalign® treatments typically require fewer visits to the dentist for maintenance or adjustments. According to Dr. Dietz, her San Diego Invisalign® patients typically achieve the best results after 9-15 months of treatment. She notes, however, that those with very minor orthodontic issues may be able to achieve results faster with Invisalign® Express 5, which uses only five trays.
About Megan Dietz, DDS
Dr. Megan Dietz is a graduate of Cal Poly San Luis Obispo and earned her dental degree from UCLA dental school. Dr. Dietz has taken continuing education courses in oral conscious sedation, implant restoration, and mandibular advancement appliances to treat snoring and sleep apnea. She is available for interview upon request.
For more information about Dr. Dietz and Encinitas Cosmetic Dentistry, visit drcathysantone.com or facebook.com/encinitascosmeticdentistry.