Teeth Whitening
Every smile looks more beautiful and healthy when your teeth are sparkling white. However, common habits such as drinking coffee, tea, soft drinks, red wine, or smoking will often stain or discolor the tooth enamel. Our cosmetic dentists offer two teeth whitening options to brighten any smile with safe, effective bleaching methods: Zoom!® for in-office teeth whitening, and custom take-home bleaching trays.
Contact Encinitas Cosmetic Dentistry today for more information on Zoom!® teeth whitening options.
Over-the-Counter vs. Professional Teeth Whitening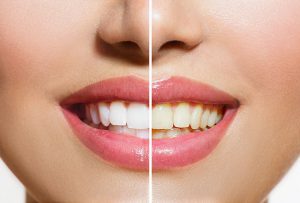 Compared to over-the-counter whitening techniques, professional teeth whitening from a cosmetic dentist can offer a faster method of treatment as well as more powerful results. Teeth whitening at Encinitas Cosmetic Dentistry involves a simple, relaxing in-office procedure designed to lighten your enamel by several shades at once. Best of all, the results are noticeable before you leave our office. In contrast, over-the-counter whitening kits, toothpastes, and rinses often only yield a subtle change in your tooth color, which is typically not apparent until after several weeks to months of daily use. In turn, these products may prevent patients from receiving as dramatic a difference as they would like, or from achieving effective results within their desired timeframe.
Popular trends in "natural" whitening or teeth bleaching can similarly produce an understated difference, if any. In fact, many holistic bleaching treatments—such as coconut oil teeth whitening and charcoal teeth whitening—lack the research to support their claims to lighten teeth, according to the American Dental Association. Professional teeth whitening is safe and effective with decades of research to support the results that can be achieved. It is considered the best way for individuals to achieve a gleaming smile almost immediately, with this cosmetic dentistry treatment offering the benefit of a customized whitening regimen tailored to a patient's unique needs.
What Teeth Whitening Methods are Available?
Zoom!® Teeth Whitening

By receiving a teeth whitening treatment with Zoom!®, patients can brighten their teeth by approximately eight or more shades in as little as 90 minutes. With Zoom!® teeth whitening, patients can sit back and relax as Dr. Santone, Dr. Dietz, and their team oversee the in-office procedure, which is completed in a single visit. After placing a protective barrier on the gum tissue, a whitening gel is applied to the teeth. Dr. Santone or Dr. Dietz then use a specialized bright blue light to activate the gel. This activation of the patented whitening gel formula can significantly whiten teeth, and the concentration of the gel can be customized to help minimize tooth sensitivity. Following the procedure, patients can leave the office with a brighter smile, as well as custom take-home teeth whitening trays to help maintain their beautiful white smiles! We are also happy to send patients their own before-and-after photos, enabling them to make comparisons and show off their Zoom!® teeth whitening results.
Did You Know?
People who drink 3 or more sodas per day have 62% more tooth decay, fillings, and tooth loss than others.
Take-Home Teeth Whitening
For patients who prefer complete control and convenience, Dr. Santone and Dr. Dietz offer a take-home method of teeth whitening: custom bleaching trays. These trays provide a convenient and easy way for our patients to brighten their smiles at home or on the way to work. Custom bleaching trays provide a quick, simple, and effective take-home whitening option that is 84% stronger than over-the-counter strips. Utilizing our take-home bleaching system can be a safe, effective way to restore your glistening smile on your own schedule.
How Can I Manage Tooth Sensitivity After Teeth Whitening?
One of the many benefits of the Zoom!® whitening system is that your personalized regimen will be tailored to your unique sensitivity levels. We understand that patients experience varying degrees of sensitivity and take every measure to make your experience as pleasant and relaxing as possible. A few tips that can help you decrease tooth sensitivity after your whitening session, or while you are utilizing our at-home kits, include:
Using products designed for tooth sensitivity, such as Sensodyne® Rapid Relief toothpaste
Using a soft-bristled toothbrush
Rinsing with fluoride mouthwash
Temporarily avoiding very hot or very cold food and drink
Decreasing the amount of bleaching gel in your whitening trays
Reducing how often you whiten your teeth
Our cosmetic dentists can further advise you on how to decrease tooth sensitivity once you visit our offices. We work diligently to ensure the right amount of bleaching gel is applied based on your needs, allowing us to minimize patient discomfort during and after your treatment.
How Long Do Teeth Whitening Results Last?
The outcome of Zoom!® teeth whitening treatment depends on how discolored your teeth are at the beginning. The longevity of the results depends on your personal habits. From our experience, your teeth will be whiter than they were before Zoom® even after 2 – 5 years! Each patient will experience a slightly different result depending on their diet and oral hygiene habits. Limiting consumption of staining agents and brushing or rinsing your mouth after consuming coffee, tea, red wine, and blueberries can help ensure your smile remains color-stable for as long as possible. Smoking will cause accelerated discoloration of the enamel, potentially shortening the lifespan of your results. While the effects of the aging process as well as the rate at which your teeth naturally yellow will continue, good oral hygiene and periodic touch-up treatments can help you enjoy your new smile all year long.
To schedule a consultation with Dr. Santone or Dr. Dietz and decide which procedure is best for you, please contact our office today.