San Diego Dentist on Benefits of Conservative Cosmetic Dentistry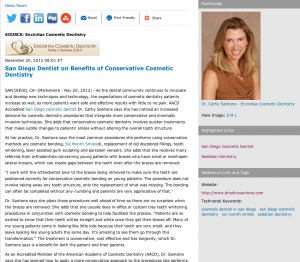 San Diego, CA–As the dental community continues to innovate and develop new techniques and technology, the expectations of cosmetic dentistry patients increases as well, as more patients want safe and effective results with little to no pain. AACD Accredited San Diego cosmetic dentist Dr. Cathy Santone says she has noticed an increased demand for cosmetic dentistry procedures that integrate more conservative and minimally invasive techniques. She adds that conservative cosmetic dentistry involves quicker treatments that make subtle changes to patients' smiles without altering the overall tooth structure.
At her practice, Dr. Santone says the most common procedures she performs using conservative methods are cosmetic bonding, Six Month Smiles®, replacement of old discolored fillings, teeth whitening, laser-assisted gum sculpting and porcelain veneers. She adds that she receives many referrals from orthodontists concerning young patients with braces who have small or misshapen lateral incisors, which can create gaps between the teeth even after the braces are removed:
"I work with the orthodontist prior to the braces being removed to make sure the teeth are positioned correctly for conservative cosmetic bonding on young patients. The procedure does not involve taking away any tooth structure, only the replacement of what was missing. The bonding can often be completed without any numbing and patients are very appreciative of that."
Dr. Santone says she plans these procedures well ahead of time so there are no surprises when the braces are removed. She adds that she usually does in-office or custom tray teeth whitening procedures in conjunction with cosmetic bonding to help facilitate the process. "Patients are so excited to know that their teeth will be straight and white once they get their braces off. Many of my young patients come in looking like little kids because their teeth are very small, and they leave looking like young adults the same day. It's amazing to see them go through this transformation." The treatment is conservative, cost effective and has longevity, which Dr. Santone says is a benefit for both the patient and their parents.
As an Accredited Member of the American Academy of Cosmetic Dentistry (AACD), Dr. Santone says she has learned how to apply a more conservative approach to the procedures she performs, such as porcelain veneers and dental implants. She adds that the AACD is not just about cosmetics, but about comprehensive dentistry, which focuses on how the teeth come together with the overall bite and how the teeth fit into a patient's face and smile. Dr. Santone says that one of her primary goals is to make restorations and other cosmetic procedures last as long as possible. "Conservative cosmetic dentistry is a perfect alternative for patients who want to achieve a long-lasting beautiful smile without substantially altering their existing tooth structure."
About Cathy J. Santone, DDS
An honors graduate of the University of California, Los Angeles (UCLA), Dr. Cathy Santone has been an Accredited Member of the American Academy of Cosmetic Dentistry since 2004. She previously served as President and Treasurer of the Southwest Affiliate of the AACD. Dr. Santone supports continuing education and completes more than 60 hours of continuing education courses each year. She currently serves on the Relevancy Committee of the AACD and is a member of a number of professional organizations, including the American Dental Association, California Dental Association and the San Diego Advanced Dental Study Group. She also participates in the "Give Back a Smile" program hosted by the AACD. Dr. Santone and her Encinitas Cosmetic Dentistry practice offer a number of procedures designed to improve patients' smiles and level of comfort, such as teeth whitening, smile makeovers and sedation dentistry.
Encinitas Cosmetic Dentistry is located at 895 Santa Fe Drive in Encinitas, CA 92024 and can be reached at (760) 753-0908. Dr. Santone and her team can also be contacted online via the website drcathysantone.com or by visiting facebook.com/encinitascosmeticdentistry.