Dental Implants
Dr. Cathy Santone and Dr. Megan Dietz offer a range of restorative dentistry procedures designed to help our patients achieve the aesthetic appearance they deserve. The first step in obtaining your dream smile is addressing the foundation and supporting structures of your teeth. Whether you are in need of a single missing tooth replacement or a more extensive procedure requiring several dental implants, Dr. Santone and Dr. Dietz possess the extensive training, knowledge, and experience to restore your smile and confidence.
"Cathy Santone was very professional and kind throughout my procedure. She is a very caring person and continually made sure I was very comfortable."
Missing Tooth Replacement
Missing or severely damaged teeth can make eating, drinking, and daily function very difficult. They may also be a source of embarrassment at work or in public, causing individuals to hide their smiles or cover their teeth. Consequently, absent spaces between teeth can affect a patient's emotional well-being as much as their oral health. Other repercussions of missing teeth may include:
Inability to eat certain foods, resulting in a restricted diet
Increased risk of oral diseases, such as bacteria buildup and gingivitis
Loss of jawbone density and strength, possibly leading to changes in facial appearance
Shifting and misalignment of remaining teeth
Altered speech
Our experienced general and cosmetic dentists understand how inconvenient a missing tooth can be and provide a number of tooth-replacement options. For those seeking a long-lasting and natural-looking solution, our progressive dentistry options, such as dental implants and bridges, can help patients return to a normal lifestyle and enhance their confidence while restoring the function of their teeth.
Did You Know?
A tooth that has been knocked out starts to die within 15 minutes, but if you put it in milk or hold it in your mouth it will survive longer. See a dentist ASAP!
What are Dental Implants?
Dental implants are tooth-root forms that integrate into the jawbone, functioning very similarly to a natural tooth's root. This artificial root or implant is placed by a specialized oral surgeon or periodontist. Once the artificial root fully secures to the bone, Dr. Santone or Dr. Dietz will create a custom porcelain crown or new tooth to replace the missing tooth. This crown (or new tooth) will be attached to the implant to provide an incredibly natural-looking tooth replacement. Dental implants can be used to replace a single missing tooth, multiple missing teeth, or serve as support for the replacement of all missing teeth. When compared to other procedures, a dental implant can be an excellent way to replace a single missing tooth because it does not require any of the surrounding teeth to be prepared or ground down.
What are the Benefits of Dental Implants?
Dental implants can offer an array of benefits for your oral health and the appearance of your smile. Perhaps the most convenient aspect of dental implantation is that each implant is affixed to your jawbone and designed to function as a natural part of your mouth. As a result, they require similar maintenance to what is recommended for your natural teeth. In general, dental implants can provide the following:
Individual tooth replacement that can resemble a natural tooth
Restoration of a proper bite
Enhanced smile appearance
No additional maintenance other than daily brushing and flossing
Long-lasting solution that generally does not require retreatment
Prevention of further bone loss
Who is a Candidate for Dental Implants?
In order for the implantation process to be successful, ideal candidates for the procedure should have enough jawbone density to support the implant. Because the amount of bone loss experienced usually increases the longer a tooth has been missing, individuals who lack the necessary bone structure for dental implants may find a more effective replacement option with dental bridges.
Results Gallery
Before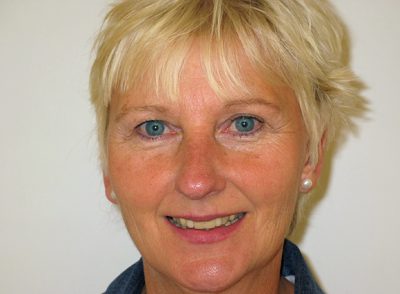 After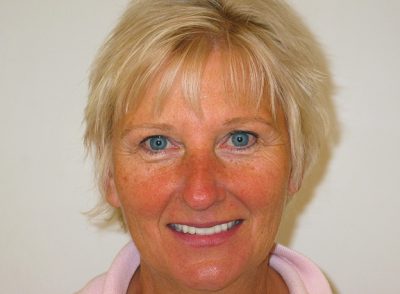 Dental Bridges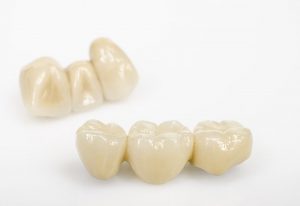 We strive to create the smile that will boost your confidence and self-esteem. Our dentists believe there's no reason why patients should have to hide behind less-than-perfect teeth. Our doctors and highly skilled dental team—including our laboratory technician—specialize in natural-looking bridges to replace missing teeth, often improving the appearance of adjacent teeth in the process. Dental bridges allow Dr. Santone and Dr. Dietz to fill spaces between teeth with natural-looking, custom-sculpted replacements that can correct speaking and chewing issues, as well as decrease strain when biting down. As bridges are a long-lasting restorative solution to missing teeth, they offer an effective alternative to dental implants.
What is the Dental Implant Procedure Like?
First, an evaluation of your teeth and mouth during a consultation will help determine whether you have the necessary bone density for the implant to properly fuse with your jawbone. This involves a consultation with an oral surgeon or periodontist who will take a 3D image of your mouth. After your candidacy for dental implants is confirmed, treatment will involve placing a thin post beneath the gum of your missing tooth. We understand that some patients may experience dental anxiety during this process and our dentists can provide advanced sedation dentistry options to help you relax if desired. Once the post has successfully fused to your mouth (a process that can take a few months), a custom-designed porcelain dental crown will be attached to the implant for a natural and comfortable fit. The crown will then be color-shaded to match the hue of your enamel and you should have a fully functioning restoration that blends with your natural teeth.
How Long Do Dental Implants Last?
Dental implants can serve as an effective tooth replacement for years — even decades. These restorations behave much like natural teeth and are similarly affected by decay and enamel damage. Therefore, implants can be expected to last as long as your natural teeth and, with proper oral hygiene, they are capable of providing results that endure well into the future.
How Do I Care For My Dental Implants?
Aside from daily brushing and flossing habits, no additional maintenance is required to keep dental implants in good condition. However, if grinding and clenching the teeth during sleep is an issue, you may consider wearing a night guard to protect your restorations from unnecessary wear and tear.
How Much Do Dental Implants Cost?
The cost of dental implants generally ranges from patient to patient depending on the nature of each person's unique needs. Factors that can affect the price of treatment include:
The number of implants required to achieve your goals
The location of the implants within your dental arches
The state of your existing oral health and whether preliminary treatments, such as bone grafting or periodontal therapy, are necessary before implant placement
The cost of crafting a prosthesis
While your true cost estimate will be influenced by your geographic location, healthcare reviewing website Realself.com lists the national average price of dental implant treatment at approximately $6,925. Rest assured that a member of our team will provide you with an accurate quote of your expenses after you are evaluated in a consultation. If you are interested in paying for your treatment incrementally over a period of time, our practice works with CareCredit® to make the cost of dental implants more manageable. This dental financing company offers qualified applicants a variety of payment plans with low monthly installments — many of which include low- to no-interest rates. If you have any questions about your payment options, please reach out to our practice today.
Choosing the Right Implant Dentist
As an advanced technique designed to provide a long-lasting tooth replacement, implant dentistry often requires coordination from multiple dental specialists to achieve an effective result. To increase the likelihood of restoring a full, healthy smile as well as proper biting function, it is essential to select an experienced team of dentists to conduct your dental implant procedure.
While you are in the process of searching for a well-qualified implant dentist to achieve your treatment goals, a few simple tips can help you narrow down your options:
Select a dentist with experience in implant dentistry. Explore the website of your prospective dentist and learn whether they have undergone post-graduate training in dental implant placement or periodontics. Choosing a dentist who is well-versed with the implant process can typically make your experience more comfortable and optimize the final outcome.
See before-and-after photos of smile transformations. When placed properly, dental implants should look indistinguishable from natural teeth. Look through a dentist's photo gallery to get an idea of the aesthetic results achieved with previous dental implant patients, and decide whether these outcomes align with your expectations.
Research the technology employed by a practice. Implant placement usually takes place in multiple stages, and certain dental technologies, such as sedation dentistry and the use of intraoral cameras, can increase patient comfort during the procedure. Discover whether your dentist utilizes special equipment or technology to aid the implant process by searching through their website or asking him or her in a consultation.
Read online patient reviews. Online reviews can be an invaluable resource when assessing the satisfaction levels of previous patients after the implant procedure. Sift through reviews from multiple platforms to gain insight into the type of care you can expect to receive with a prospective dentist and select someone capable of providing an enhanced treatment experience.
If you have questions about the dental implant procedure or the other restorative dentistry options we offer, please contact our practice today to speak to a member of our team or to schedule a consultation.