ClearCorrect™

With ClearCorrect™, patients can discreetly straighten their teeth using clear, removable trays. The ClearCorrect™ orthodontic system uses customized aligners that are virtually undetectable when worn, allowing you to straighten your teeth without metal wires or brackets. Compared to traditional methods, the clear aligners that are part of this cosmetic dentistry procedure can be a much more comfortable and convenient way to straighten your teeth. Considered two of the top dentists in Encinitas, Cathy Santone, DDS and Megan Dietz, DDS offer ClearCorrect™ as an effective solution for resolving a variety of orthodontic issues.
Benefits of ClearCorrect™
In addition to the aesthetic benefit of using clear aligners rather than metal wires and brackets, the ClearCorrect™ orthodontic system offers many other benefits, some of which include:
Aligners can be removed for eating, drinking, brushing, and flossing
Typically requires fewer office visits and less maintenance
More comfortable than traditional orthodontic techniques
Often more cost effective than traditional orthodontic techniques
How It Works
ClearCorrect™ is designed to gradually shift your teeth over time into the desired position using a series of custom-made aligner trays. In your initial consultation with Dr. Dietz or Dr. Santone, your individual orthodontic issues can be assessed, and it will be determined if ClearCorrect™ is the right solution for you. If so, customized aligner trays can be created for you based on impressions taken with digital 3D imaging technology. The digital images captured by our 3M™ True Definition Scanner are sent to the ClearCorrect™ labs, where your trays will be designed. Once you receive your clear aligners, you will be instructed on the recommended amount of time they will need to be worn – most patients wear each tray for three weeks before switching to the next tray in the set. Each tray is designed to be slightly different than the one before it to gradually shift teeth into their desired position.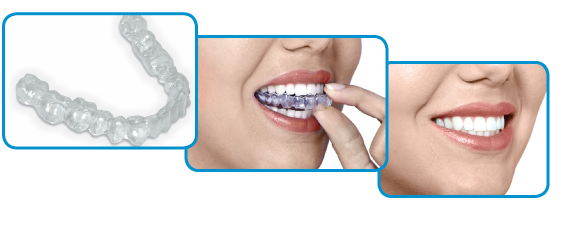 Contact Encinitas Cosmetic Dentistry
If you have an orthodontic issue such as an overbite, underbite, crowding, or gapped teeth, ClearCorrect™ might be a good way for you to discreetly straighten your teeth. If you are interested in learning more about ClearCorrect™, or you want to schedule a consultation with one of our dentists, please contact us today.