Dental Technology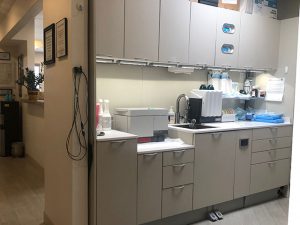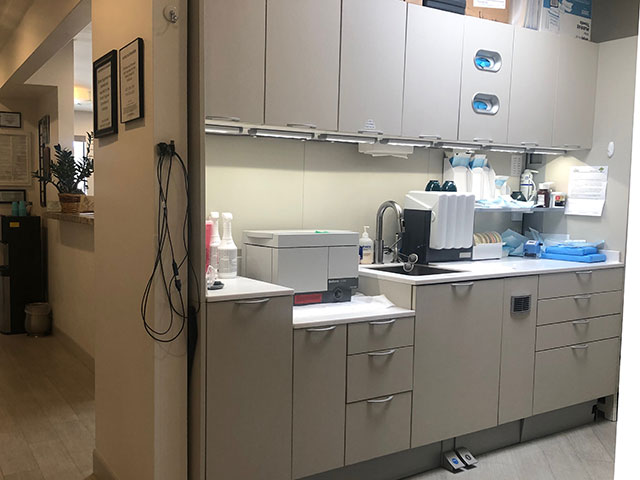 In addition to green dental technology, Dr. Cathy Santone and Dr. Megan Dietz appreciate the ease and increased comfort other advancements in dental technology have provided, as we strive to create a positive dental experience for each patient.
Biolase® ezlase 940: This cutting-edge laser dentistry uses a specific wavelength to perform certain therapeutic goals. Now without the use of a scalpel, Dr. Santone and Dr. Dietz are able to perform dental procedures for patients without the heat, vibration, and pressure associated with the more traditional methods.
Our dental laser is in a compact form that looks like an iPod. This makes it easy for our team of highly-trained doctors and hygienists to perform the following procedures:
Laser Bacterial Reduction (LBR): LBR is a non-invasive, painless dental procedure, which uses the dental laser to kill nearly 100% of the bacteria located in the gum pockets around our patients' teeth. LBR is commonly used for our patients with heart conditions, heart murmurs, mitral valve prolapse (MVP), and those who have had strokes or could be susceptible to infection by the bad bacteria that lives in our mouths.
Laser Assisted Periodontal Therapy (LAPT): LAPT is used during some of our family dentistry procedures, like deep dental cleanings such as root-planing or curettage procedures, to remove the diseased, infected, inflamed, and dead tissue deep within the gum pocket. This is a non-surgical procedure which does not involve the use of scalpel of the need for sutures. During the removal process, the dental laser also sterilizes the gum pocket and kills any remaining bad bacteria. Additionally, the laser also promotes healthy healing of the soft tissue and reduces the overall size of the gum pockets while increasing the bone height around the teeth. Dr. Santone and Dr. Dietz routinely find that more bone around the teeth leads to a healthier mouth and improvement of loose or mobile teeth.
Cosmetic gum lifts: also known as gingivectomy or gingivoplsaty, the dental laser can be used to precisely shape and contour gum tissue to improve the health and appearance around the teeth, especially within the smile zone.
Desensitizing the teeth: the dental laser can be used to reduce tooth sensitivity, especially around the gum line where exposed root surfaces can be extremely sensitive to cold and hot sensations. The dental laser is used to ablate or explode the bacteria in the pores of the teeth, which then seals the root to decrease and even eliminate tooth sensitivity.
Treatment of cold sores and cancer sores: the dental laser can prevent the eruption of unsightly and painful cold sores and fever blisters. At the first sign of a sore, scheduling an office visit can prevent the eruption; however, if the blister is already present, the dental laser can also reduce the pain and swelling. The dental laser can also be used to treat painful mouth sores caused by biting your cheeks, tongue, or lips. Both procedures do not require anesthetic, numbing agents, or shots, and are quick, effective procedures which can be scheduled at your convenience.
Oral lesion removal: the dental laser can be used to remove tissue tags and bumps, fibroma, or tissue biopsy.
Frenectomy removal: the removal of the muscle attachment that sometimes causes the space between a patient's front teeth and can contribute to gum recession around the teeth.
The Dental Intraoral camera allows Dr. Santone and Dr. Dietz to educate their patients with a close-up assessment of their dental concerns, as well as the procedures required to correct them by providing a dentist's view of the patient's teeth and mouth. For our dentists, the intraoral camera is a great way to show patients how their mouth and teeth change over time, while documenting teeth position and general wear and tear. The intraoral camera is completely optional for patients that would rather not get the close-up view.
NOMAD™ Handheld X-rays
NOMAD® Handheld X-rays are an advanced imaging technology that simplifies your X-ray experience. Now, you can have X-rays taken in a manner that is faster and more convenient. These devices provide our team with a clearer view of your teeth and gums, allowing us to more extensively detect any potential concerns and ensure your dental treatment is as effective as possible. With less radiation emitted, NOMAD™Handheld X-rays can also minimize the impact of your exposure. Utilization of these devices, in combination with our method of processing X-ray images digitally, can decrease waste, eliminate the handling of harmful chemicals, and provide comprehensive benefits to the environment that align with our values as a green practice. Advantages of NOMAD™ Handheld X-rays include:
Your X-ray images are more accurate, thanks to the device's portability
Faster process than traditional X-ray methods, meaning your dental visit will be quicker and more convenient
Fewer retakes overall, exposing you to less radiation
Works with a lower power and smaller doses of radiation, allowing operators to stay in the room during the process
This is an innovative system that can make your treatment more effective and environmentally-friendly by producing clear images and allowing for a convenient, no-hassle X-ray experience.
Green Practice
In addition to procedural dental technology, our dental office employs the latest dental software that accurately tracks each patient's dental health to further streamline the overall dental experience, while adhering to up-to-date privacy guidelines. In effort to remain environmentally-conscious, our green dentistry office is paperless, and provides patients alternative methods to fill out their dental health history, including on an iPad in the dental office, or in the comfort of their own home via computer.