Cosmetic Dentistry
The field of cosmetic dentistry allows Dr. Cathy Santone and Dr. Megan Dietz to provide a variety of options for increasing overall confidence in your appearance by enhancing the beauty of your smile. Whether you desire a subtle aesthetic enhancement or a more dramatic change to your smile, our dentists offer a range of cosmetic dentistry procedures, including teeth whitening and porcelain dental veneers, at our Encinitas practice to help you achieve the smile you deserve.
For more information on cosmetic dentistry, or to schedule a consultation with Dr. Santone or Dr. Dietz, contact us today.
Really excellent dentistry and first class service. I love my dentist!!

LorriM

March 07, 2015

12345
More Reviews
Cosmetic Treatment Options
Porcelain Veneers
If your smile is being held back by chips, gaps, misalignments, or deep discoloration, porcelain veneers can be the perfect solution to correct cosmetic flaws in the teeth! This treatment can mask a variety of tooth imperfections with the realistic beauty and long-lasting durability of dental porcelain. Veneers are considered a conservative treatment that only require a minimal amount of tooth preparation before the placement process.
Invisalign®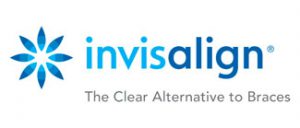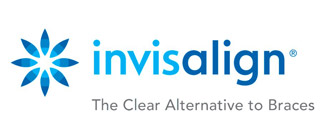 Invisalign® is the leading clear-aligner option that can allow you to straighten your teeth and/or bite without the inconvenience of traditional braces. Based on a treatment plan created by Dr. Santone or Dr. Dietz, a series of aligners will be custom-fabricated for your needs and orthodontic goals. While they are worn, these aligners exert gentle force on your teeth to propel them into a healthier alignment. As a system designed to be as minimally disruptive to your daily life as possible, Invisalign® aligners are transparent, removable, and allow you to enjoy all your favorite foods with no restrictions.
Six Month Smiles®

Six Month Smiles® is an innovative teeth-straightening treatment that can improve your smile in as little as six months! While this is not an ideal technique to correct a poor bite, Six Month Smiles® can often close gaps and treat tooth crowding faster than other orthodontic systems. With the discretion provided by clear brackets and tooth-colored wires, these cosmetic braces offer a metal-free option to help you straighten your teeth.
ClearCorrect™

ClearCorrect™ is another orthodontic treatment option that uses clear aligners to shift your teeth into the desired alignment. With ClearCorrect™, you can eat and clean your teeth as you normally would and enjoy the benefits of a brace-free orthodontic treatment, such as fewer office appointments and easy maintenance. In some cases, ClearCorrect™ can be a more economical option than other clear-aligner systems.
Teeth Whitening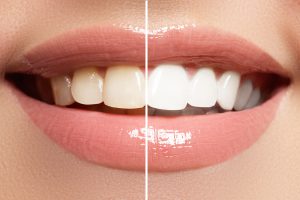 Teeth whitening is perhaps the most simple and effective cosmetic dentistry treatment to transform your smile. Although brushing and flossing don't have the power to lighten the inner tooth structure—which is where some of the most severe discoloration occurs—professional teeth whitening can penetrate the layer underneath the enamel and brighten your teeth by several shades in one appointment! We offer both in-office treatment and at-home trays so you can whiten at your own convenience.
Dental Crowns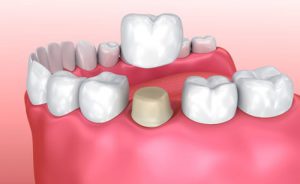 A tooth-shaped cap designed to protect and support your tooth, a dental crown often has more functional benefits when compared to other cosmetic restorations. Crowns can serve a number of purposes, such as strengthening a decayed tooth, restoring a tooth after a root canal, and reinforcing weak enamel, among other uses. Unlike the metal dental crowns of the past, the crowns at Encinitas Cosmetic Dentistry are made from tooth-colored materials, such as ceramic and zirconia, and are custom-crafted to fit comfortably over your tooth.
Cosmetic Bonding
Cosmetic bonding is a conservative technique that can repair chips, cracks, stains, and unwanted spaces between teeth in a single dental appointment. This is accomplished by layering a durable composite resin over the damaged enamel in order to restore the ideal proportions of a healthy tooth. The tooth-colored composite is shaped and light-cured to harden, thereby masking your cosmetic flaws for results that can appear completely natural.
Smile Makeover
Are there multiple aspects of your smile that you wish to improve at once? If so, you may be able to attain your dream smile with a personalized smile makeover! This all-encompassing treatment plan consists of various cosmetic and restorative dentistry procedures that are chosen based on your unique needs and concerns. Once your treatment plan is complete, the result should be a stunning and healthy smile you can be proud of.
Gum Recontouring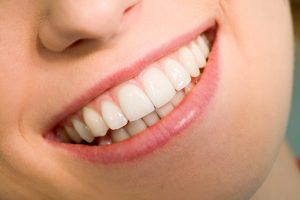 For patients hoping to address a dominating gumline or "gummy smile," our cosmetic dentists offer laser gum reshaping to remove excess tissue and help you achieve a more proportionate balance between your teeth and gums. By using our advanced dental lasers to perform treatment, the gumline can be recontoured with less pain, bleeding, and discomfort when compared to techniques that require cutting and/or incisions.
What is Cosmetic Dentistry?
Cosmetic dentistry provides our patients with the chance to achieve the perfect smile they have always desired. By performing procedures such as teeth whitening to address stains or discolorations, or porcelain veneers to fix chipped or cracked teeth, our cosmetic dentists are able address any and all aesthetic concerns our patients may have concerning their smile.
Supported by an ever-evolving and advancing field of modern dental procedures, Dr. Santone and Dr. Dietz create long-lasting smile makeovers by improving the appearance and function of their patients' teeth with cosmetic dentistry.
Before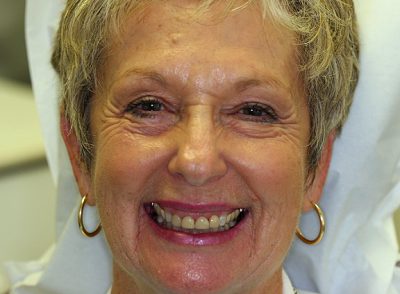 After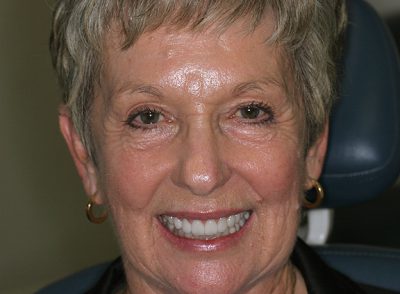 Choosing a Cosmetic Dentist
When choosing a cosmetic dentist, the American Academy of Cosmetic Dentistry (AACD) and our dentists recommend asking for the following before undergoing treatment:
Smile Gallery of before-and-after photos
Online references to get a sense of the quality of care provided
Whether the dentist pursues continuing education courses to stay up-to-date with the latest techniques in cosmetic dentistry
What Sets Encinitas Cosmetic Dentistry Apart?
Dr. Santone and Dr. Dietz are passionate about creating beautiful smiles with natural-looking results for their patients. Our dentists are dedicated to the practice of dentistry and continue to further their education in all facets of general, cosmetic, and restorative dentistry. Dr. Santone and Dr. Dietz focus on patient satisfaction and results, supplemented by their state-of-the-art, environmentally conscious, green dental office and highly skilled professional team.
Whether you are considering cosmetic procedures to enhance your smile like teeth whitening, or a complete smile makeover, Dr. Santone, Dr. Dietz, and our qualified team want our patients to know that choosing a cosmetic dentist is an important decision that should be considered carefully.
For more information on our cosmetic dentistry services, or to schedule a consultation with our skilled dentists, please contact our practice today.