San Diego Cosmetic Dentist Whitens Teeth To Create A Younger Appearance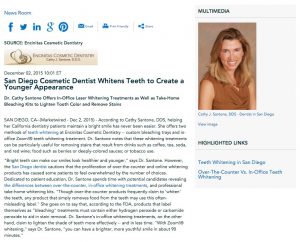 Dr. Cathy Santone offers in-office laser whitening treatments as well as take-home bleaching kits to lighten tooth color and remove stains.
San Diego, CA – According to Cathy Santone, DDS, helping her California dentistry patients maintain a bright smile has never been easier. She offers two methods of teeth whitening at Encinitas Cosmetic Dentistry – custom bleaching trays and in-office Zoom!® teeth whitening treatment. Dr. Santone notes that these whitening treatments can be particularly useful for removing stains that result from drinks such as coffee, tea, soda, and red wine; food such as berries or deeply-colored sauces; or tobacco use.
"Bright teeth can make our smiles look healthier and younger," says Dr. Santone. However, the San Diego dentist cautions that the proliferation of over-the-counter and online whitening products has caused some patients to feel overwhelmed by the number of choices. Dedicated to patient education, Dr. Santone spends time with potential candidates revealing the differences between over-the-counter, in-office whitening treatments, and professional take-home whitening kits. "Though over-the-counter products frequently claim to 'whiten' the teeth, any product that simply removes food from the teeth may use this often-misleading label." She goes on to say that, according to the FDA, products that label themselves as "bleaching" treatments must contain either hydrogen peroxide or carbamide peroxide to aid in stain removal. /Dr. Santone's in-office whitening treatments, on the other hand, claim to lighten the shade of teeth more effectively—and in less time. "With Zoom!® whitening," says Dr. Santone, "you can have a brighter, more youthful smile in about 90 minutes."
As an alternative to over-the-counter and in-office solutions, Encinitas Cosmetic Dentistry also offers take-home professional-grade whitening kits. According to Dr. Santone, these take-home kits can be up to 84% stronger and more effective than many retail products. Since this increased strength can sometimes lead to increased tooth sensitivity, Dr. Santone offers her San Diego dentistry patients a number of tips to protect the teeth during treatment. To help prevent sensitivity, she recommends using a desensitizing fluoride toothpaste like Sensodyne® for two weeks prior to beginning a take-home kit, shortening the length of time the patient wears the trays, and in some cases reducing the strength of the whitening gel. Dr. Santone also recommends scheduling an oral exam and routine cleaning prior to starting a teeth whitening treatment. She explains that sensitive teeth can often be a sign of tooth wear, decay, and erosion of the teeth.
During the consultation process, Dr. Santone helps her patients choose the whitening system that can best achieve their goals. Her aim is to educate patients and enable them to make well-informed choices. As an added benefit, after using one of her teeth whitening treatments, Dr. Santone says her patients often experience a boost in confidence along with a whiter, more youthful smile.
About Cathy J. Santone, DDS
Dr. Santone offers a comprehensive range of dental treatments and services at Encinitas Cosmetic Dentistry including: porcelain veneers, dental implants, and metal-free crowns. She earned her dental degree from the University of California, Los Angeles School of Dentistry. Dr. Santone is also trained and certified by the American Academy of Facial Esthetics (AAFE) to administer BOTOX® injections and dermal fillers. In addition to serving as an active member of the American Dental Association and several other esteemed dental organizations, Dr. Santone has served as the president of the Southwest Affiliate of the American Academy of Cosmetic Dentistry (AACD) in San Diego and currently maintains active membership. Dr. Santone is available for interview upon request.
For more information about Dr. Santone and Encinitas Cosmetic Dentistry, please visit drcathysantone.com or facebook.com/encinitascosmeticdentistry.
Contact:
Encinitas Cosmetic Dentistry
Cathy J. Santone, D.D.S.
895 Santa Fe Dr
Encinitas, CA 92024
(760) 753-0908
Rosemont Media
(858) 200-0044
www.rosemontmedia.com