San Diego Cosmetic Dentist Offers Straighter Teeth With Six Month Smiles®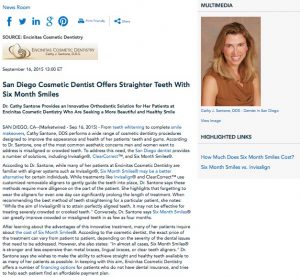 Dr. Cathy Santone provides an innovative orthodontic solution for her patients at Encinitas Cosmetic Dentistry who are seeking a more beautiful and healthy smile.
San Diego, CA – From teeth whitening to complete smile makeovers, Cathy Santone, DDS performs a wide range of cosmetic dentistry procedures designed to improve the appearance and health of her patients' teeth and gums. According to Dr. Santone, one of the most common aesthetic concerns men and women want to address is misaligned or crowded teeth. To address this need, the San Diego dentist provides a number of solutions, including Invisalign®, ClearCorrect™, and Six Month Smiles®.
According to Dr. Santone, while many of her patients at Encinitas Cosmetic Dentistry are familiar with aligner systems such as Invisalign®, Six Month Smiles® may be a better alternative for certain individuals. While treatments like Invisalign® and ClearCorrect™ use customized removable aligners to gently guide the teeth into place, Dr. Santone says these methods require more diligence on the part of the patient. She highlights that forgetting to wear the aligners for even one day can significantly prolong the length of treatment. When recommending the best method of teeth straightening for a particular patient, she notes: "While the aim of Invisalign® is to attain perfectly aligned teeth, it may not be effective for treating severely crowded or crooked teeth." Conversely, Dr. Santone says Six Month Smiles® can greatly improve crowded or misaligned teeth in as few as four months.
After learning about the advantages of this innovative treatment, many of her patients inquire about the cost of Six Month Smiles®. According to the cosmetic dentist, the exact price of the treatment can vary from patient to patient, depending on the severity of the dental issues that need to be addressed. However, she also states: "In almost all cases, Six Month Smiles® is stronger and less expensive than metal braces, lingual braces, or clear teeth aligners." Dr. Santone says she wishes to make the ability to achieve straight and healthy teeth available to as many of her patients as possible. In keeping with this aim, Encinitas Cosmetic Dentistry offers a number of financing options for patients who do not have dental insurance, and tries to help each patient find an affordable payment plan.
About Cathy J. Santone, DDS
Dr. Santone earned her dental degree from the University of California, Los Angeles School of Dentistry. She offers a comprehensive range of dental treatments and services at Encinitas Cosmetic Dentistry including dental implants, porcelain veneers, and metal-free crowns. Dr. Santone is trained and certified by the American Academy of Facial Esthetics (AAFE) to administer BOTOX® injections, as well as dermal fillers. She is accredited by the American Academy of Cosmetic Dentistry (AACD), has served as the president of the Southwest Affiliate of the AACD in San Diego, and currently maintains active membership. Dr. Santone is also a member of the American Dental Association and several other esteemed dental organizations. She is available for interview upon request.
For more information about Dr. Santone and Encinitas Cosmetic Dentistry, please visit drcathysantone.com or facebook.com/encinitascosmeticdentistry.
Contact:
Encinitas Cosmetic Dentistry
Cathy J. Santone, D.D.S.
895 Santa Fe Dr
Encinitas, CA 92024
(760) 753-0908
Rosemont Media
(858) 200-0044
www.rosemontmedia.com