Encinitas Dentist Appointed As New Partner at Acclaimed Dental Practice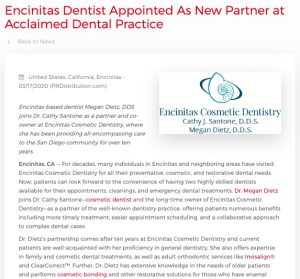 Encinitas-based dentist Megan Dietz, DDS joins Dr. Cathy Santone as a partner and co-owner at Encinitas Cosmetic Dentistry, where she has been providing all-encompassing care to the San Diego community for over ten years.
Encinitas, CA — For decades, many individuals in Encinitas and neighboring areas have visited Encinitas Cosmetic Dentistry for all their preventative, cosmetic, and restorative dental needs. Now, patients can look forward to the convenience of having two highly skilled dentists available for their appointments, cleanings, and emergency dental treatments. Dr. Megan Dietz joins Dr. Cathy Santone—cosmetic dentist and the long-time owner of Encinitas Cosmetic Dentistry—as a partner of the well-known dentistry practice, offering patients numerous benefits including more timely treatment, easier appointment scheduling, and a collaborative approach to complex dental cases.
Dr. Dietz's partnership comes after ten years at Encinitas Cosmetic Dentistry and current patients are well-acquainted with her proficiency in general dentistry. She also offers expertise in family and cosmetic dental treatments, as well as adult orthodontic services like Invisalign® and ClearCorrect™. Further, Dr. Dietz has extensive knowledge in the needs of older patients and performs cosmetic bonding and other restorative solutions for those who have enamel deterioration or normal wear and tear affecting their teeth. With her increased availability at the practice, even more patients can enjoy prompt appointment scheduling as well as accessibility to a dentist for any concerns they would like to discuss during routine cleanings.
Both Dr. Dietz and Dr. Santone prioritize continuing education to stay attuned to the latest dental technology, as well as comprehensive dentistry that is mindful of whole-body health. They look forward to providing personal, patient-focused care for a wide range of dental concerns. "Now that I am committing all my time to one office, I can focus my undivided attention towards one patient pool," Dr. Dietz comments.
To learn more about Encinitas Cosmetic Dentistry, please visit drcathysantone.com and facebook.com/encinitascosmeticdentistry.
About Cathy J. Santone, DDS
Dr. Cathy Santone is an AACD-accredited cosmetic dentist based in Encinitas. As a lead clinician and partner at Encinitas Cosmetic Dentistry, Dr. Santone focuses on comprehensive general and aesthetic dental treatments using conservative techniques. She has served as a past president of the AACD's Southwest affiliate and was a founding member of the San Diego Advanced Study group for over 20 years, as well as an aesthetic advisor to the group. Dr. Santone participates in monthly Spear Study Club continuing education with local specialists and general dentists in North County. When she is not at her practice, Dr. Santone enjoys being on the ocean sailing with her family, yoga, and skiing in the winter. Dr. Santone is available for interview upon request.
About Megan Dietz, DDS
Dr. Megan Dietz is a lead dentist and co-owner at Encinitas Cosmetic Dentistry, where she offers the entire spectrum of general, cosmetic, and restorative treatments. Dr. Dietz has been a member of the AACD for the majority of her career and has been able to hone in on her cosmetic dentistry skills through her collaborations with Dr. Santone as her mentor. Other focuses include orthodontics with clear aligner systems and diagnosing the treatment of sleep apnea using mandibular advancement devices. Dr. Dietz grew up in Solana Beach and attended Cal Poly San Luis Obispo, where she played on the lacrosse team and graduated cum laude. She later completed dental school at the University of California, Los Angeles. Outside of her work, Dr. Dietz enjoys running, hiking, music, beach days, and spending time with her family. Dr. Dietz is available for interview upon request.
Contact:
Encinitas Cosmetic Dentistry
891 Santa Fe Drive
Encinitas, CA 92024
(760) 753-0908
Rosemont Media
(858) 200-0044
www.rosemontmedia.com