Encinitas Dentists Offer Sedation Options to Ease Dental Anxiety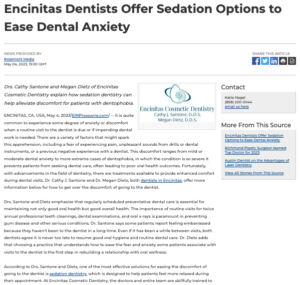 Drs. Cathy Santone and Megan Dietz of Encinitas Cosmetic Dentistry explain how sedation dentistry can help alleviate discomfort for patients with dentophobia.
Encinitas, CA – It is quite common to experience some degree of anxiety or discomfort when a routine visit to the dentist is due or if impending dental work is needed. There are a variety of factors that might spark this apprehension, including a fear of experiencing pain, unpleasant sounds from drills or dental instruments, or a previous negative experience with a dentist. This discomfort ranges from mild or moderate dental anxiety to more extreme cases of dentophobia, in which the condition is so severe it prevents patients from seeking dental care, often leading to poor oral health outcomes. Fortunately, with advancements in the field of dentistry, there are treatments available to provide enhanced comfort during dental visits. Dr. Cathy J. Santone and Dr. Megan Dietz, both dentists in Encinitas, offer more information below for how to get over the discomfort of going to the dentist.
Drs. Santone and Dietz emphasize that regularly scheduled preventative dental care is essential for maintaining not only good oral health but good overall health. The importance of routine visits for twice annual professional teeth cleanings, dental examinations, and oral x-rays is paramount in preventing gum disease and other serious conditions. Dr. Santone says some patients report feeling embarrassed because they haven't been to the dentist in a long time. Even if it has been a while between visits, both dentists agree it is never too late to resume good oral hygiene and routine dental care. Dr. Dietz adds that choosing a practice that understands how to ease the fear and anxiety some patients associate with visits to the dentist is the first step in rebuilding a relationship with oral wellness.
According to Drs. Santone and Dietz, one of the most effective solutions for easing the discomfort of going to the dentist is sedation dentistry, which is designed to help patients feel more relaxed during their appointment. At Encinitas Cosmetic Dentistry, the doctors and entire team are skillfully trained to administer nitrous oxide sedation, also known as laughing gas, to manage discomfort at safe levels throughout treatment. This fast-acting method helps to ease anxiety under the careful watch of a medical professional. After treatment, the patient breathes pure oxygen through the mask until the effects wear off—usually within about 10 minutes, meaning that they can drive themselves home after their appointment if needed.
According to Dr. Santone, patients that have received sedation dentistry at her practice often report an increased pain threshold and the sense that the procedure was completed faster than expected. Nitrous oxide is both quite safe, being used in the labor and delivery center at Scripps Encinitas, and an effective sedation technique. Sedation dentistry can be especially useful for restorative procedures, such as dental crowns, fillings, and deep cleanings.
Another method the doctors at Encinitas Cosmetic Dentistry use to ease the patient experience is state-of-the-art instruments that can optimize the efficiency of procedures and even eliminate the need for surgery. Dr. Dietz shares that high-tech laser dentistry enables her team to gently perform advanced treatments with non-invasive instruments, such as the Biolase® ezlase 940 soft tissue laser. She notes that this device helps to kill harmful bacteria, aid in deep dental cleanings, desensitize teeth, treat cold sores and canker sores, remove oral lesions, and improve the health and appearance of gums. Dr. Santone adds that many patients also enjoy the enhanced convenience of the iTero digital scanner, which can make treatment more efficient and negate the need for messy impression trays.
Dr. Santone and Dr. Dietz find that certain office amenities can also help patients relax during treatment, such as noise-canceling headphones and weighted blankets. Ultimately, from sedation dentistry to modernized tools and amenities, there are numerous options available to help patients conquer their fear of going to the dentist. By taking advantage of these offerings and prioritizing oral care, the risk of advanced gum disease, tooth loss, and other serious health conditions can be dramatically reduced for a healthy dental future.
About Encinitas Cosmetic Dentistry
Encinitas Cosmetic Dentistry is a multidisciplinary practice located in the Encinitas area of San Diego, California. The highly skilled team of dentists have decades of combined experience in the fields of cosmetic and restorative dentistry. Dr. Cathy Santone is an accredited member of the prestigious American Academy of Cosmetic Dentistry (AACD), a member of the American Dental Association, and a member of the California Dental Association. She also participates in the AACD's "Give Back a Smile" program. Joining Dr. Santone as co-owner of Encinitas Cosmetic Dentistry, Dr. Megan Dietz has over a decade of demonstrated proficiency in general and cosmetic dentistry, as well as adult orthodontic services such as Invisalign®. Dr. Dietz is a longstanding member of the AACD and affiliated with the American Academy of Clear Aligners and the American Dental Association. Both dentists are available for interview upon request.
For more information about Encinitas Cosmetic Dentistry, please visit encinitascosmeticdentistry.com or facebook.com/encinitascosmeticdentistry.
Contact:
Encinitas Cosmetic Dentistry
891 Santa Fe Dr
Encinitas, CA 92024
(760) 753-0908
Rosemont Media
(858) 200-0044
www.rosemontmedia.com