Encinitas Dentist Urges Screenings In Light of Oral Cancer Awareness Month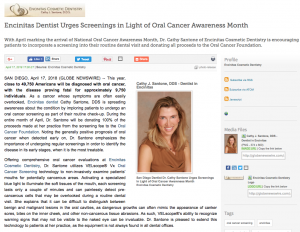 With April marking the arrival of National Oral Cancer Awareness Month, Dr. Cathy Santone of Encinitas Cosmetic Dentistry is encouraging patients to incorporate a screening into their routine dental visit and donating all proceeds to the Oral Cancer Foundation.
San Diego, CA— This year, close to 49,750 Americans will be diagnosed with oral cancer, with the disease proving fatal for approximately 9,750 individuals. As a cancer whose symptoms are often easily overlooked, Encinitas dentist Cathy Santone, DDS is spreading awareness about the condition by imploring patients to undergo an oral cancer screening as part of their routine check-up. During the entire month of April, Dr. Santone will be donating 100% of the proceeds made at her practice from the screening fee to the Oral Cancer Foundation. Noting the generally positive prognosis of oral cancer when detected early on, Dr. Santone emphasizes the importance of undergoing regular screenings in order to identify the disease in its early stages, when it is the most treatable.
Offering comprehensive oral cancer evaluations at Encinitas Cosmetic Dentistry, Dr. Santone utilizes VELscope® Vx Oral Cancer Screening technology to non-invasively examine patients' mouths for potentially cancerous areas. Activating a specialized blue light to illuminate the soft tissues of the mouth, each screening lasts only a couple of minutes and can painlessly detect pre-cancerous cells that may be overlooked during a routine dental visit. She explains that it can be difficult to distinguish between benign and malignant lesions in the oral cavities, as dangerous growths can often mimic the appearance of canker sores, bites on the inner cheek, and other non-cancerous tissue abrasions. As such, VELscope®'s ability to recognize warning signs that may not be visible to the naked eye can be invaluable. Dr. Santone is pleased to extend this technology to patients at her practice, as the equipment is not always found in all dental offices.
According to the Oral Cancer Foundation, the best way to manage and treat an oral cancer diagnosis is by combining early detection of the disease with timely treatment. With this in mind, Dr. Santone strongly recommends that patients who smoke, use tobacco, or who have been exposed to HPV undergo an evaluation, as these individuals can be at a higher risk of developing a cancerous growth. In the same vein, Dr. Santone also implores non-smokers and low-risk patients to remain vigilant about their health by getting screened, as this simple preventative measure can be crucial in the event that a tumor or irregular lesion exists unbeknownst to a patient.
About Cathy J. Santone, DDS
Dr. Cathy Santone has been in private practice for over 20 years and is an accredited member of the American Academy of Cosmetic Dentistry (AACD). She has previously served as the past president and board member of the Southwest Affiliate of the AACD, as well as the committee chairwoman for the chapter's Membership Benefits and Recognition Committee. Dr. Santone also participates in AACD's "Give Back a Smile" program, which aims to repair dental injuries and restore healthy smiles to individuals who have been affected by domestic abuse.
To learn more about Dr. Cathy Santone and Encinitas Cosmetic Dentistry, please visit www.drcathysantone.com and www.facebook.com/encinitascosmeticdentistry. Dr. Santone is available for interview upon request.
Contact:
Encinitas Cosmetic Dentistry
Cathy J. Santone, DDS
895 Santa Fe Drive
Encinitas, CA 92024
(760) 753-0908
Rosemont Media
(858) 200-0044
www.rosemontmedia.com