3M™True Definition: Dental Imaging Tools Updated For Faster Results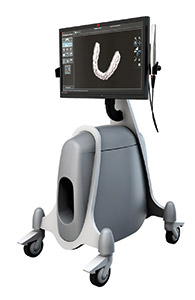 As part of our mission to provide patients with a comfortable, convenient, and positive experience, Encinitas Cosmetic Dentistry is committed to keeping our practice up-to-date with the latest in dental technology. In addition to innovations such as laser dentistry, we now offer digital image impressions to simplify the process of restorations while improving the quality of the results. The 3M™ True Definition Scanner allows our dentists to create an instant computerized 3D representation of your mouth's anatomy, significantly reducing the risk of inaccuracies that can result from more traditional techniques.
In the past, dentists used physical materials to create molds of the patient's teeth and gums. Not only does the 3M™ True Definition Scanner eliminate the need for these messy materials, but the actual process of making the impressions is now much more comfortable for our patients. Without the need for plastic impression materials, this innovative technology is also an environmentally friendly way to approach restorations. Once the impression is created, the digital file can be instantly sent to the lab where your dental crown or bridge will be milled, maximizing the accuracy of your restoration. These scans can also be used to create impressions for orthodontic treatment with Invisalign® or ClearCorrect™. With recent technological advancements like the 3M™ True Definition Scanner, your dental treatment can be more convenient and accurate than ever before!
Check back soon for the second installment of our two-part series on dental imaging where we will outline in detail the many benefits of this new technology.
To learn more about Dr. Cathy J. Santone, Dr. Megan Dietz, and how Encinitas Cosmetic Dentistry can utilize innovative dental technologies to rejuvenate your smile in a more comfortable way, please contact our office today.