The Benefits Of Digital Imaging
In our previous blog post, we discussed how dental innovations such as the 3M™ True Definition Scanner create a more comfortable experience for our patients. In this follow-up post, Dr. Cathy Santone provides an in-depth look at the benefits of digital imaging.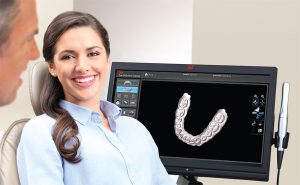 As digital technology continues to improve in speed and accuracy, the uses of this technology continue to expand. At Encinitas Cosmetic Dentistry, we utilize the 3M™ True Definition Scanner, providing our patients with a faster, more accurate method of taking dental impressions for crowns and dental bridges, as well as orthodontic treatments such as Invisalign® and ClearCorrect™. Compared to the traditional means of obtaining impressions—which relied on the use of messy materials patients had to hold in their mouths—the digital impressions created by the 3M™ True Definition Scanner offer a number of advantages.
According to our cosmetic dentist Dr. Cathy J. Santone, some of the benefits of the 3M™ True Definition Scanner include:
Comfortable, no-mess 3D image capture
High-resolution video
Instant transmission of digital files for lab work
Improved fit of restorations
Significant reduction in post-procedure adjustments
Time-saving for both dentist and patient
More environmentally friendly than traditional methods
As an added benefit, the 3M™ True Definition Scanner instantly delivers an image of your gums and teeth, allowing you to gain a better understanding of the entire restoration process—and a clearer idea of the beautiful results you can expect from Encinitas Cosmetic Dentistry.
To learn more about how the 3M™ True Definition Scanner can simplify your tooth restorations, or to schedule an appointment for one of the many dental treatments we offer, contact our office today.