San Diego Dentist Embraces Mobile Technology With New Website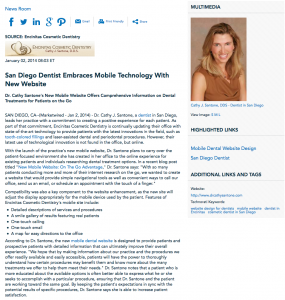 Dr. Cathy Santone's new mobile website offers comprehensive information on dental treatments for patients on the go.
San Diego, CA – Dr. Cathy J. Santone, a dentist in San Diego, leads her practice with a commitment to creating a positive experience for each patient. As part of that commitment, Encinitas Cosmetic Dentistry is continually updating their office with state-of-the-art technology to provide patients with the latest innovations in the field, such as tooth-colored fillings and laser-assisted dental and periodontal procedures. However, their latest use of technological innovation is not found in the office, but online.
With the launch of the practice's new mobile website, Dr. Santone plans to carry over the patient-focused environment she has created in her office to the online experience for existing patients and individuals researching dental treatment options. In a recent blog post titled "New Mobile Website: On The Go Advantage," Dr. Santone says: "With so many patients conducting more and more of their internet research on the go, we wanted to create a website that would provide simple navigational tools as well as convenient ways to call our office, send us an email, or schedule an appointment with the touch of a finger."
Compatibility was also a key component to the website enhancement, as the new site will adjust the display appropriately for the mobile device used by the patient. Features of Encinitas Cosmetic Dentistry's mobile site include:
Detailed descriptions of services and procedures
A smile gallery of results featuring real patients
One-touch calling
One-touch email
A map for easy directions to the office
According to Dr. Santone, the new mobile dental website is designed to provide patients and prospective patients with detailed information that can ultimately improve their overall experience. "We hope that by making information about our practice and the procedures we offer readily available and easily accessible, patients will have the power to thoroughly understand how certain procedures may benefit them and know more about the many treatments we offer to help them meet their needs." Dr. Santone notes that a patient who is more educated about the available options is often better able to express what he or she seeks to accomplish with a particular procedure, ensuring that Dr. Santone and the patient are working toward the same goal. By keeping the patient's expectations in sync with the potential results of specific procedures, Dr. Santone says she is able to increase patient satisfaction.
Encinitas Cosmetic Dentistry has a history of taking steps beyond what is necessary to create a positive impact. The office is entirely computerized – just one of many changes Dr. Santone has implemented to make her practice not only a more user-friendly environment for the staff and the patients, but also more environmentally-conscious. With its new mobile website, Dr. Santone says her San Diego cosmetic dentistry practice has implemented yet another technological innovation for the ease and convenience of the patient.
About Cathy J. Santone, DDS
Dr. Cathy Santone is a graduate of the University of California, Los Angeles School of Dentistry. In addition to serving on the Board of Directors of the Southwest Affiliate of the American Academy of Cosmetic Dentistry in San Diego, she serves as committee chairwoman for the AACD Membership Benefits and Recognition Committee. In conjunction with the AACD, Dr. Santone also participates in the "Give Back a Smile" program. Dr. Santone is available for interview upon request.
For more information about Dr. Dietz and Encinitas Cosmetic Dentistry, visit drcathysantone.com or facebook.com/encinitascosmeticdentistry.
Contact:
Encinitas Cosmetic Dentistry
Cathy J. Santone, D.D.S.
895 Santa Fe Dr
Encinitas, CA 92024
(760) 753-0908
Rosemont Media
[email protected]
(858) 200-0044
www.rosemontmedia.com