San Diego Dentistry Practice Offers Oral Sedation to Relieve Dental Anxiety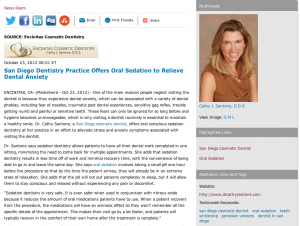 Encinitas, CA—One of the main reasons people neglect visiting the dentist is because they experience dental anxiety, which can be associated with a variety of dental phobias, including fear of needles, traumatic past dental experiences, sensitive gag reflex, trouble getting numb and painful or sensitive teeth. These fears can only be ignored for so long before oral hygiene becomes unmanageable, which is why visiting a dentist routinely is essential to maintain a healthy smile. Dr. Cathy Santone, an San Diego cosmetic dentist, offers oral conscious sedation dentistry at her practice in an effort to alleviate stress and anxiety symptoms associated with visiting the dentist.
Dr. Santone says sedation dentistry allows patients to have all their dental work completed in one sitting, minimizing the need to come back for multiple appointments. She adds that sedation dentistry results in less time off of work and minimal recovery time, with the convenience of being able to go in and leave the same day. She says oral sedation involves taking a small pill one hour before the procedure so that by the time the patient arrives, they will already be in an extreme state of relaxation. She adds that the pill will not put patients completely to sleep, but it will allow them to stay conscious and relaxed without experiencing any pain or discomfort.
"Sedation dentistry is very safe. It is even safer when used in conjunction with nitrous oxide because it reduces the amount of oral medications patients have to use. When a patient recovers from the procedure, the medications will have an amnesic effect so they won't remember all the specific details of the appointment. This makes their visit go by a lot faster, and patients will typically recover in the comfort of their own home after the treatment is complete."
At her practice, Dr. Santone offers a variety of procedures, including smile makeovers, Six Month Smiles®, dental implants and teeth whitening. Knowing that many patients are afraid of visiting the dentist, Dr. Santone says she and her team offer sedation dentistry as a solution to relieve any existing dental phobias. Sedation dentistry provides patients with a number of advantages, which Dr. Santone says can help them feel as relaxed as possible both during and after their treatment. She adds that her ultimate goal is to provide quality patient care by employing the most innovative dental techniques and state-of-the-art technology.
About Cathy J. Santone, DDS
Dr. Cathy Santone has been an Accredited Member of the American Academy of Cosmetic Dentistry (AACD) since 2004. She is an honors graduate of the University of California, Los Angeles and currently serves on the AACD Relevancy Committee. Dr. Santone is dedicated to continuing education and has completed more than 60 hours of courses each year. She previously served on the AACD Southwest Affiliate as President and Treasurer. Dr. Santone is extensively trained in procedures such as metal-free crowns, porcelain veneers, tooth-colored fillings and dental bonding.
Dr. Santone belongs to several professional organizations, including the California Dental Association, San Diego Advanced Dental Study Group and the American Dental Association.
She also participates in the "Give Back a Smile" charity program through the AACD.
Encinitas Cosmetic Dentistry is located at 895 Santa Fe Drive in Encinitas, CA 92024 and can be reached at (760) 753-0908. Dr. Santone and her team can also be contacted online via the website drcathysantone.com or by visiting facebook.com/encinitascosmeticdentistry.