San Diego Cosmetic Dentist Uses Six Month Smiles® to Improve Patient's Teeth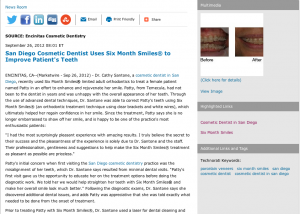 Encinitas, CA–Dr. Cathy Santone, a cosmetic dentist in San Diego, recently used Six Month Smiles® limited adult orthodontics to treat a female patient named Patty in an effort to enhance and rejuvenate her smile. Patty, from Temecula, had not been to the dentist in years and was unhappy with the overall appearance of her teeth. Through the use of advanced dental techniques, Dr. Santone was able to correct Patty's teeth using Six Month Smiles® (an orthodontic treatment technique using clear brackets and white wires), which ultimately helped her regain confidence in her smile. Since the treatment, Patty says she is no longer embarrassed to show off her smile, and is happy to be one of the practice's most enthusiastic patients:
"I had the most surprisingly pleasant experience with amazing results. I truly believe the secret to their success and the pleasantness of the experience is solely due to Dr. Santone and the staff. Their professionalism, gentleness and suggestions to help make the Six Month Smiles® treatment as pleasant as possible are priceless."
Patty's initial concern when first visiting the San Diego cosmetic dentistry practice was the misalignment of her teeth, which Dr. Santone says resulted from minimal dental visits. "Patty's first visit gave us the opportunity to educate her on the treatment options before doing the diagnostic work. We told her we would help straighten her teeth with Six Month Smiles® and make her overall smile look much better." Following the diagnostic exams, Dr. Santone says she discovered additional dental issues, and adds Patty was appreciative that she was told exactly what needed to be done from the onset of treatment.
Prior to treating Patty with Six Month Smiles®, Dr. Santone used a laser for dental cleaning and for sculpting the gum tissue and refining the position of the gum tissues to look even and balanced. "She had some big cavities that needed to be fixed before Six Month Smiles®, and we were able to do everything in an easy, timely manner. We got her gum tissue healthy and got rid of decay." She adds that she was able to build the teeth up with composite restorations once the orthodontic treatment was completed. "Patty was so thrilled and excited about the results she saw from Six Month Smiles®. There was a tremendous change in the way her teeth looked, and she could immediately see how her teeth were already getting straight."
Dr. Santone says Patty was thoroughly satisfied with her experience and the results from her Six Month Smiles® treatment. The use of state-of-the-art techniques to correct Patty's teeth helped her feel more confident in her smile than ever before. Dr. Santone says she and her team at Encinitas Cosmetic Dentistry are committed to providing optimal patient care in the most comfortable and relaxing environment possible. Whether patients choose procedures such as porcelain veneers or Invisalign® to fulfill their needs, Dr. Santone and the rest of the team strive to develop customized treatment plans to make dental visits easy and hassle-free.
About Cathy J. Santone, DDS
Dr. Cathy Santone graduated from the University of California, Los Angeles (UCLA) with honors in 1995 and has been an Accredited Member of the American Academy of Cosmetic Dentistry since 2004. She currently serves on the Relevancy Committee of the AACD. Dr. Santone previously served as President and Treasurer of the Southwest Affiliate of the AACD. She is an advocate for continuing education and completes more than 60 hours of continuing education courses each year. Dr. Santone is a member of a number of professional organizations, including the American Dental Association, California Dental Association and the San Diego Advanced Dental Study Group. She also participates in the "Give Back a Smile" program hosted by AACD.
Located at 895 Santa Fe Drive in Encinitas, CA, Encinitas Cosmetic Dentistry can be reached at (760) 753-0908. Dr. Santone and her team can also be contacted online via the website drcathysantone.com or by visiting facebook.com/encinitascosmeticdentistry.