Encinitas Dentist Introduces New Oral Cancer Screening Device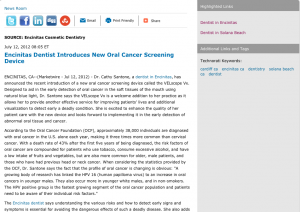 Encinitas, CA — Dr. Cathy Santone, a dentist in Encinitas, has announced the recent introduction of a new oral cancer screening device called the VELscope Vx. Designed to aid in the early detection of oral cancer in the soft tissues of the mouth using natural blue light, Dr. Santone says the VELscope Vx is a welcome addition to her practice as it allows her to provide another effective service for improving patients' lives and additional visualization to detect early a deadly condition. She is excited to enhance the quality of her patient care with the new device and looks forward to implementing it in the early detection of abnormal oral tissue and cancer.
According to the Oral Cancer Foundation (OCF), approximately 38,000 individuals are diagnosed with oral cancer in the U.S. alone each year, making is three times more common than cervical cancer. With a death rate of 43% after the first five years of being diagnosed, the risk factors of oral cancer are compounded for patients who use tobacco, consume excessive alcohol, and have a low intake of fruits and vegetables, but are also more common for older, male patients, and those who have had previous head or neck cancer. When considering the statistics provided by the OCF, Dr. Santone says the fact that the profile of oral cancer is changing is obvious: "A growing body of research has linked the HPV 16 (human papilloma virus) to an increase in oral cancers in younger males. They also occur more in younger white males, and in non-smokers. The HPV positive group is the fastest growing segment of the oral cancer population and patients need to be aware of their individual risk factors."
The Encinitas dentist says understanding the various risks and how to detect early signs and symptoms is essential for avoiding the dangerous effects of such a deadly disease. She also adds that early detection of oral cancer is vital to patient survival and she encourages all patients be aware of the available screening options: "Early detection of suspicious oral lesions with the aid of VELscope will help prevent oral cancer's potential devastating spread to surrounding tissues."
As an Encinitas and Cardiff dentist, Dr. Santone focuses on a wide variety of comprehensive patient services, ranging from porcelain veneers and teeth whitening to mercury-free fillings and periodontal treatment. She says having regular oral cancer screenings should be an important part of a patient's dental hygiene routine and she recommends undergoing the quick VELscope VX procedure annually. Using blue light, the VELscope Vx device illuminates natural fluorescence in the mouth, while pre-cancerous tissue appears dark. All in all, Dr. Santone says the entire oral cancer screening with the VELscope Vx takes about two minutes to perform. "VELscope's blue light helps me to see tissue changes I can't see with white light and my naked eye.  It allows me to easily document any suspicious lesion with a photograph which I can compare on follow-up visits and share with oral pathology specialists."
Dr. Santone says she hopes to continue spreading awareness about the dangers of oral cancer and is thankful for the opportunity to provide this new service to her patients. Regardless of whether they are coming in for a routine cleaning or porcelain veneers, she recommends patients strongly consider an oral cancer screening from an experienced dental professional. She says patients searching for a new dentist in Solana Beach or Encinitas should be sure to consult with a dedicated dental practice to ensure they not only achieve the enjoyment of a beautiful, healthy smile, but also the prevention of a dangerous and fatal condition. "If someone hasn't seen a dentist in over a year, or sees a red or white spot in their mouth or have a mouth sore that doesn't go away within two weeks, the appointment needs to be made for a dental and oral check up. I remind my patients that doing so can help to put their mind as ease."
About Cathy J. Santone, DDS
A Cum Laude graduate of the University of California, Los Angeles School of Dentistry, Dr. Cathy Santone is an Accredited Member of the American Academy of Cosmetic Dentistry. She currently serves on the AACD Relevancy Committee was a past committee chairwoman for the AACD Membership Benefits and Recognition Committee as well as the Board of directors of the Southwest Affiliate of the AACD in San Diego. Dr. Santone dedicates over 60 hours a year to her continued education courses and also participates in the AACD-sponsored "Give Back a Smile" program to help provide free dental care and cosmetic reconstructions to victims of domestic violence.
Located at 895 Santa Fe Drive in Encinitas, CA, Encinitas Cosmetic Dentistry can be reached at (760) 753-0908. It can also be contacted online via the website drcathysantone.com or by visiting the Encinitas Cosmetic Dentistry Facebook page.