What Happens if I Stop Wearing My Retainers?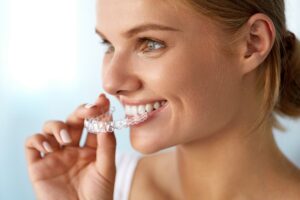 Once you've achieved your desired orthodontic goals, it may seem discouraging to exchange your previous oral apparatus for a retainer, even if it's removable. Most dental professionals will recommend wearing a retainer 20-22 hours a day in the immediate aftermath of orthodontic treatment. This routine can then progress to just nightly wear, depending on the needs of the patient. However, even with the best intentions, some patients may slowly (or abruptly) stop wearing their retainer. At first, your neglected dental device may not make a noticeable difference, but eventually the lack of retention will likely begin to show. This is known as orthodontic relapse. In fact, studies show that if you don't wear your retainer, you may need orthodontic intervention again within 10 years, or even sooner. Our team of Encinitas cosmetic dentists offer a number of options to help restore a straighter smile after orthodontic relapse.:
Invisalign®
The innovative Invisalign® clear aligner system is designed to straighten teeth more comfortably and discreetly than traditional metal braces. Each set of clear, plastic, flexible aligners are customized to incrementally move teeth to a desired position. Many patients find Invisalign® to be more convenient, as the aligners may be removed while eating, drinking, brushing, and flossing, which is helpful in maintaining proper oral hygiene. On average, depending on the severity of orthodontic relapse, patients may be able to complete the Invisalign® process within 6 to 15 months.
ClearCorrect™
Similar to Invisalign®, the ClearCorrect™ orthodontic system works to straighten teeth using clear, customized removable trays that are virtually invisible when worn. The ClearCorrect™ series of aligner trays also progressively guide teeth into the appropriate placement a few weeks at a time. Our dentists can review your case and make recommendations regarding which solution is best suited to your needs.
Six Month Smiles®
Six Month Smiles® is a discreet orthodontic option where clear brackets are paired with tooth-colored wires to effectively straighten teeth. Since the clear braces are attached to the teeth, orthodontic compliance is less of a concern. Treatment can often be completed in as little as four to nine months, with six months being the average timeframe. Six Month Smiles® can be an excellent solution for patients who prefer a quicker turnaround time, or patients that might not be eligible for clear aligner trays.
Porcelain Veneers
For patients who do not wish to undergo further orthodontic treatment, porcelain dental veneers can help improve the appearance of crooked teeth. These thin sheets of high-quality dental porcelain are fitted over the fronts and sides of the teeth, effectively concealing minor misalignment. Furthermore, the shade of the veneers can be customized, allowing patients to potentially achieve a whiter smile in the process.
If you have noticed shifting within your teeth, or would like to learn more about corrective cosmetic dentistry methods, please contact Encinitas Cosmetic Dentistry today.
Medical Resources for Orthodontic Relapse: