San Diego Dentist Expands Office Space to Better Serve Patients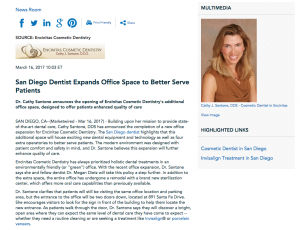 Dr. Cathy Santone announces the opening of Encinitas Cosmetic Dentistry's additional office space, designed to offer patients enhanced quality of care.
San Diego, CA — Building upon her mission to provide state-of-the-art dental care, Cathy Santone, DDS has announced the completion of a new office expansion for Encinitas Cosmetic Dentistry. The San Diego dentist highlights that this additional space will house exciting new dental equipment and technology as well as four extra operatories to better serve patients. The modern environment was designed with patient comfort and safety in mind, and Dr. Santone believes this expansion will further enhance quality of care.
Encinitas Cosmetic Dentistry has always prioritized holistic dental treatments in an environmentally friendly (or "green") office. With the recent office expansion, Dr. Santone says she and fellow dentist Dr. Megan Dietz will take this policy a step further. In addition to the extra space, the entire office has undergone a remodel with a brand new sterilization center, which offers more oral care capabilities than previously available.
Dr. Santone clarifies that patients will still be visiting the same office location and parking area, but the entrance to the office will be two doors down, located at 891 Santa Fe Drive. She encourages visitors to look for the sign in front of the building to help them locate the new entrance. As patients walk through the door, Dr. Santone says they will discover a bright, open area where they can expect the same level of dental care they have come to expect—whether they need a routine cleaning or are seeking a treatment like Invisalign® or porcelain veneers.
About Cathy J. Santone, DDS
Dr. Santone completed her dental education from the University of California, Los Angeles School of Dentistry, graduating with honors. She is an accredited member of the American Academy of Cosmetic Dentistry (AACD) and a past president of the Southwest Affiliate of the AACD. Dr. Santone works alongside Dr. Jack Santone and Dr. Megan Dietz at Encinitas Cosmetic Dentistry to offer a comprehensive array of dental solutions. In addition to her work in private practice, Dr. Santone stays active in the dental community by maintaining memberships in professional organizations, including the American Dental Association, the California Dental Association, and the San Diego Advanced Dental Study Group. She is available for interview upon request.
To learn more about Dr. Cathy Santone and Encinitas Cosmetic Dentistry, please visit drcathysantone.com and facebook.com/encinitascosmeticdentistry.
Contact:
Encinitas Cosmetic Dentistry
Cathy J. Santone, DDS
895 Santa Fe Drive
Encinitas, CA 92024
(760) 753-0908
Rosemont Media
(858) 200-0044
www.rosemontmedia.com