In Support of Oral Cancer Awareness Month, San Diego Dentist Encourages Screenings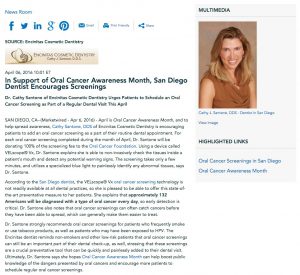 Dr. Cathy Santone of Encinitas Cosmetic Dentistry urges patients to schedule an oral cancer screening as part of a regular dental visit this April.
San Diego, CA — April is Oral Cancer Awareness Month, and to help spread awareness, Cathy Santone, DDS of Encinitas Cosmetic Dentistry is encouraging patients to add an oral cancer screening as a part of their routine dental appointment. For each oral cancer screening completed during the month of April, Dr. Santone will be donating 100% of the screening fee to the Oral Cancer Foundation. Using a device called VELscope® Vx, Dr. Santone explains she is able to non-invasively check the tissues inside a patient's mouth and detect any potential warning signs. The screening takes only a few minutes, and utilizes a specialized blue light to painlessly identify any abnormal tissues, says Dr. Santone.
According to the San Diego dentist, the VELscope® Vx oral cancer screening technology is not readily available at all dental practices, so she is pleased to be able to offer this state-of-the-art preventative measure to her patients. She explains that approximately 132 Americans will be diagnosed with a type of oral cancer every day, so early detection is critical. Dr. Santone also notes that oral cancer screenings can often catch cancers before they have been able to spread, which can generally make them easier to treat.
Dr. Santone strongly recommends oral cancer screenings for patients who frequently smoke or use tobacco products, as well as patients who may have been exposed to HPV. The Encinitas dentist reminds non-smokers and other low-risk patients that oral cancer screenings can still be an important part of their dental check-up, as well, stressing that these screenings are a crucial preventative tool that can be quickly and painlessly be added to their dental visit. Ultimately, Dr. Santone says she hopes Oral Cancer Awareness Month can help boost public knowledge of the dangers presented by oral cancers and encourage more patients to schedule regular oral cancer screenings.
About Cathy J. Santone, DDS
Dr. Santone is an accredited member of the American Academy of Cosmetic Dentistry (AACD). She has served as past president and as a board member of the Southwest Affiliate of the AACD in San Diego, and has served as the committee chairwoman for the AACD Membership Benefits and Recognition Committee. Dr. Santone also participates in AACD's charitable program, "Give Back a Smile," which benefits those who have suffered the effects of domestic abuse.
To learn more about Dr. Cathy Santone and Encinitas Cosmetic Dentistry, please visit drcathysantone.com and facebook.com/encinitascosmeticdentistry. Dr. Santone is available for interview upon request.
Contact:
Encinitas Cosmetic Dentistry
Cathy J. Santone, DDS
895 Santa Fe Drive
Encinitas, CA 92024
(760) 753-0908
Rosemont Media
(858) 200-0044
www.rosemontmedia.com