Cosmetic Dentist in San Diego Now Offers BOTOX® Cosmetic At Her Practice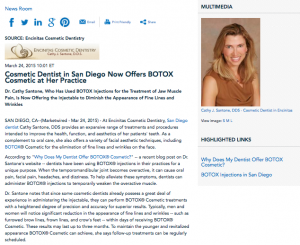 Dr. Cathy Santone, who has used BOTOX® injections for the treatment of jaw muscle pain, is now offering the injectable to diminish the appearance of fine lines and wrinkles.
San Diego, CA – At Encinitas Cosmetic Dentistry, San Diego dentist Cathy Santone, DDS provides an expansive range of treatments and procedures intended to improve the health, function, and aesthetics of her patients teeth. As a complement to oral care, she also offers a variety of facial aesthetic techniques, including BOTOX® Cosmetic for the elimination of fine lines and wrinkles on the face.
According to "Why Does My Dentist Offer BOTOX® Cosmetic?" – a recent blog post on Dr. Santone's website – dentists have been using BOTOX® injections in their practices for a unique purpose. When the temporomandibular joint becomes overactive, it can cause oral pain, facial pain, headaches, and dizziness. To help alleviate these symptoms, dentists can administer BOTOX® injections to temporarily weaken the overactive muscle.
Dr. Santone notes that since some cosmetic dentists already possess a great deal of experience in administering the injectable, they can perform BOTOX® Cosmetic treatments with a heightened degree of precision and accuracy for superior results. Typically, men and women will notice significant reduction in the appearance of fine lines and wrinkles – such as furrowed brow lines, frown lines, and crow's feet – within days of receiving BOTOX® Cosmetic. These results may last up to three months. To maintain the younger and revitalized appearance BOTOX® Cosmetic can achieve, she says follow-up treatments can be regularly scheduled.
Ultimately, Dr. Santone views BOTOX® Cosmetic as a natural adjunct to her practice's current offerings of dental and facial aesthetic procedures, adding that she is happy to provide her patients with the convenience of combining facial rejuvenation with teeth whitening, routine cleanings, and other oral care.
About Cathy J. Santone, DDS
A graduate of the University of California, Los Angeles School of Dentistry, Dr. Santone is trained and certified by the American Academy of Facial Esthetics (AAFE) to administer BOTOX® injections, as well as dermal fillers. At Encinitas Cosmetic Dentistry, she offers a comprehensive range of dental treatments and services, including porcelain veneers, Invisalign®, dental implants, and more. Dr. Santone has served as past president of the Southwest Affiliate of the American Academy of Cosmetic Dentistry (AACD) in San Diego, and she currently maintains active membership in AACD, the American Dental Association, and several other esteemed dental organizations. She is available for interview upon request.
For more information about Dr. Santone and Encinitas Cosmetic Dentistry, please visit drcathysantone.com or facebook.com/encinitascosmeticdentistry.
Contact:
Encinitas Cosmetic Dentistry
Cathy J. Santone, D.D.S.
895 Santa Fe Dr
Encinitas, CA 92024
(760) 753-0908
Rosemont Media
(858) 200-0044
www.rosemontmedia.com