Oral Cancer Awareness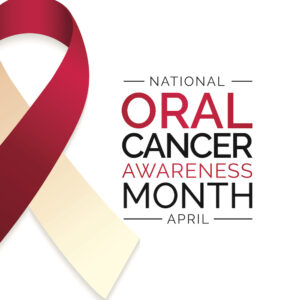 The last year has been difficult for everyone, but it remains as important as ever to protect your oral health. April 2021 is Oral Cancer Awareness Month, and Dr. Cathy Santone, Dr. Megan Dietz, and all of us here at Encinitas Cosmetic Dentistry would like to encourage you to invest in your health by scheduling an oral cancer screening. This quick, affordable screening can be included as a part of your routine dental cleanings for optimal convenience. Furthermore, a portion of the profits from every oral cancer screening conducted during the month of April will be donated to the Oral Cancer Foundation. These funds will help support their mission of disease education, prevention, research, and treatment.
According to the Oral Cancer Foundation, approximately 50,000 Americans are diagnosed with oral cancer every year. Early detection is a key part of treating those afflicted, and our state-of-the-art VELscope® Vx oral cancer screening technology can help detect signs not visible to the naked eye. Screenings typically last around two minutes, and the device uses a specialized blue light to expose growths in a non-invasive and painless fashion. While Dr. Santone and Dr. Dietz recommend routine screenings for all patients, they particularly encourage patients with additional risk factors to undergo an exam. These risk factors include smoking, drinking, using tobacco products, and HPV exposure.
Oral cancer is a very serious disease, but annual screenings can help ensure that patients receive timely treatment. Encinitas Cosmetic Dentistry is proud to support the Oral Cancer Foundation in spreading awareness and saving lives, and we encourage all of our patients to be proactive about their health.
If you have any questions about the oral cancer screening process, or if you would like to schedule an appointment with Dr. Santone or Dr. Dietz, please contact Encinitas Cosmetic Dentistry today.